Home
Next Show
Venue
Reviews
Podcasts
Archives
Links
Miz Kitty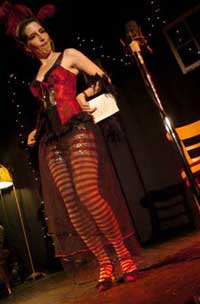 photo by Olivia Nisbet
The Oregonian
Home >> Archives >> Past Shows
Shows of the 2006-2007 Season

= Audio podcast available |

= Video podcast available
April 21, 2007
March 17, 2007
February 17, 2007
PORTLANDIAN THEATRICAL SOCIETY
A Lovelorn Tale of Heartbreak and Romance, as told by the whacked-out Professor Moodman and his crew!
LEONID NOSOV
Undisputed Master of the Bayan Accordion!
Your heart will melt and your spirit will soar!
10 Flying Fingers will Amaze!!
December 16, 2006
SHOEHORN
Portland's own Tapping Sax Playing Hero!
ZEPHYR FRENCH CABARET
Playing Le Musique' from ze "City of Lights"
IPANEMIA
Brazilian Music to thrill and Amaze!
MIGHTY GHOSTS OF HEAVEN
The Sweet, sweet harmonies of the 1920's!
PORTLANDIAN THEATRICAL SOCIETY
OH NO!! It's a living Christmas Tree!!!
MAGIDAH
Exotic Belly Dancer!
November 18, 2006
THE WHISKEY FLATS BRASS BAND
An 11 piece Brass Band playing the hits of the late 1800's!
AMY
Artistic Hula Hoop Manipulator Extraordinaire!
CONEY ISLAND CARTEL
Crazy-Raggy-Novelty Archestra!
RENOB CONTROL
Out of Control Sketch Comedy!
UNCLE WIGGILY
Fine, Fine Music of the String Band Persuasion
ERIC STERN
Portland's mad accordion genius is back in the Parlour!
October 21 , 2006

View and listen to all audio and video podcasts
Back to Top