Home
Next Show
Venue
Reviews
Podcasts
Archives
Links
Miz Kitty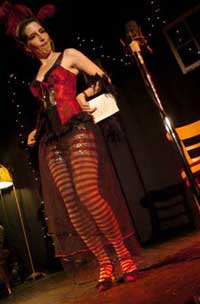 photo by Olivia Nisbet
The Oregonian
Home >> Archives >> Past Shows
Shows of the 2007-2008 Season

= Audio podcast available |

= Video podcast available
May 17, 2008
April 19, 2008
March 15, 2008
February 16, 2008
January 19, 2008
YASMIRA
Tempting Swirly Bellydancer!
November 17, 2007
October 20, 2007
MIKE DANNER
Rose City's Squeezebox Troubadour!


NEW IBERIANS
Portland's Kickin'Cajun & Zydeco Sensation!


PORTLANDIAN THEATRICAL SOCIETY
Another Psycho Episode with the Proffessor, Maude, Madge and Mable!

CONEY ISLAND CARTEL
Vintage Jazz, tapdance & Vaudvillian Shenanagins!

SHIMMY-LISHUS BELLYDANCER
Exotic and Tempting Egyptian Cabaret Style Bellydance!
The dancer is Cassiopeia, an instructor at Euphoria Studios.
September 15 , 2007
View and listen to all audio and video podcasts
Back to Top