Reviews and Notices
Girl On The Go PDX - January 2012
The Oregonian - January 2010
Oregon Music News - December 2009
PortlandLife - October 2008
The Oregonian - November 2006
Willamette Week Online - November 2006
Everyday with Rachel Ray - September 2006
St Johns Sentinel - March 2006
Portland Tribune - January 2006
Oregon Art Beat - October 13, 2005
The Oregonian - A&E - January 14, 2005
The Oregonian - A&E - April 23, 2004
---
Girl On The Go PDX - January 2012

Miz Kitty's Parlour is a Vaudville Revusical and Novelty Show and has been a Portland event for the past decade. This January was my very first "parlour act" and I loved it! Lisa Marsicek IS Miss Kitty. Her saucy and sexy charm wins everyone over, wearing a corset, red and black stripped stockings with sequined boy shorts that peek out from under her feathery clad derriere, she instantly puts a smile on your face.

Every 2nd Saturday of the month the Mission Theater, on NW Glisan, fills up with people of all ages who gladly pay $12 for their ticket to Miz Kitty's Parlour. A mixed bag of variety acts include juggling, theatrics, comedy that make you literally laugh out loud, belly dancers, puppeteers and muscial acts such as bluegrass from the hills of Kentucky, fiery fiddlin, and saucy jazz all take to the stage. Miz Kitty struts on stage between ever act to draw a raffle ticket or two. She claims she loves to shop and she knows exactly what you need once she lays eyes on the lucky ticket holder. Her prizes come from estate sales, garage sales and goodwill - each one or outfit ( which she does make the winner dress up while on stage) elicits a laugh and a round of appaulse from both the winner and the audience...

Read the full article at Girl On The Go PDX.

Kelly Melillo
January19, 2012

photo by Thomas Boyd
The Oregonian
Lisa Marsicek, who hosts the monthly Miz Kitty's Parlour at the Mission Theater, says she thinks of her show -- with guests ranging from fiddlers, jugglers and puppeteers -- as an old-style variety program.

"I've always been interested in old-time, classic music," Marsicek says. "That led into an interest in older forms of entertainment, the kind they had before TV."

The mood tends to be low key and playful at Miz Kitty's Parlour in Northwest Portland. Marsicek dresses up in corset, ostrich feather boa and striped stockings to be "Miz Kitty," who presides over a sort-of brothel, and, as her site says, transports "the 21st-century audience into the realm of the Alaskan Gold Rush."

"I get to dress up like a prostitute from the 1880s," says Marsicek, "and say dirty things." Well, not so much dirty, she adds, as "sassy and saucy."

Read the full article at OregonLive.com.

Kristi Turnquist, The Oregonian,
January 28, 2010
Oregon Music News - December 2009
Miz Kitty's Parlour a huge hit! No, really.

It started as a goofy little vaudeville show at the Back Gate Stage at Artichoke Music in 2002 starring Lisa Marsicek miz kittyas Miz Kitty, a naughty lady in a flamboyant costume a dance hall queen would have worn in the 1875.

After moving to Mississippi Pizza and then to Imbibe, she took the plunge and brought Miz Kitty's Parlour to the Mission Theater. At the time it seemed risky. I am happy to report that in November there were just a few seats at the very top of the back of the balcony remaining.

In other words, pretty much sold-out.

And it's still a goofy little vaudeville show. That's why people like it. They also like the door prizes she gives away. They involve many trips to junk stores to find just the right items.

Tom D'Antoni, December 8, 2009
Oregon Music News
Irrepressible Kitty gets into more mischief

The niche Lisa Marsicek found years ago has proved to be pretty durable. This weekend, she begins her seventh season as the saucy host of Miz Kitty's Parlour, a vaudevillian variety show where retro music is just the starting point.

Saturday's opener will feature Eric Stern, the accordionist and vocalist of the band Vagabond Opera, and Cotton Jenny, a local band that plays dark, dangerous jazz behind singer Jennifer Faust.

But the show will also include appearances by the Dim Sum Puppet Theater and the belly-dancing troupe Mandala.

"How many times can you say 'I'm gonna go out and see Taiwanese Glove Puppetry?'" she says. "People are just looking for something that's more organic. You get a taste of everything.

Fans have followed Marsicek and her show since its beginnings at Artichoke Music in Southeast Portland, where she was working in 2002.

"I didn't really see anything else going on like that when I started," she says. "People were just looking for something that's more organic. When I was at Artichoke Music, such a cast of characters would come through the door, it was easy."

It's not surprising that Marsicek, 41, would focus on music. Though she didn't begin playing until she was in her '20s, she spent years in a popular old-timey trio called the Flat Mountain Girls. She now plays fiddle in a six-piece group called the Sassparilla Jug Band.

"Most of the acts have some kind of music," she says. "I've had magicians who don't say a word, but there's music in the background."

Marsicek says presenting a grab bag of entertainers along with the eclectic music lineup allows the show to attract talent from around the Northwest, even if 90 percent of her guests are Portland-based.

Most importantly, audiences eat it up.

"It's the Andy Warhol Show. You get your 15 minutes of fame," she says. "It keeps the pace going and makes the evening go by quicker. It's a fun setup. I think artists have a great time at the show, too.

"It's kind of a lot of work," says Marsicek, who works at a print shop by day, "but I love it."

Eric Bartels
The Portland Tribune, Oct 15, 2008
Miz Kitty is on the prowl

When fiddler Lisa Marsicek was working at Artichoke Music, the proprietors suggested she think up something for their Back Gate Stage. She thought, "Vaudeville!!!" and Miz Kitty's Parlour was born.

So was Miz Kitty herself, Lisa's alter ego. Something came over Lisa when she decided to emcee in costume and character.

Five years later, her vaudeville review has moved to Imbibe after two raucous years at Artichoke and two more at Mississippi Pizza, which featured all manner of good musicians and oddball performers, comedians and unexpected acts, all presided over by Miz Kitty, introducing the acts and sitting at the side of the stage in all her hoochie glory.

Lisa also leads the old-timey band the Flat Mountain Girls.

Interviewing Lisa and Miz Kitty is like being Lee J. Cobb's Dr. Luther in "The Three Faces of Eve."

Had you ever been Miz Kitty before?

Lisa: No. I had all the costume stuff laying around the house -- I would put on my Miz Kitty outfit, put on my "Breakfast at Tiffany's" LP and clean house in it.

May I speak to Miz Kitty, please? This emergence that you had onstage -- were you always trying to get out?

Miz Kitty: I was. Thank God she took the mop out of my hand and gave me a microphone.

Lisa, do you actually feel some kind of transformation when you put the Miz Kitty outfit on?

Lisa: Yep. I don't know what it is. I'll be all nervous before the show. As soon as I come out with my costume on a half an hour before the show, people come up to me, "Oh, Miz Kitty, we're so glad to see you! Say something dirty." I say something dirty and whack them in the head with my fan. You do that dressed in street clothes, they don't like it. You put on a corset and glittery underpants and hit somebody and they're happy and give you money.

Miz Kitty: I wish she'd settle down. First thing she needs to do is to go to the bar and get herself a nice whiskey and then everything's fine. It's enough to give you the vapors.

Why do you think people let you get away with hitting them with your fan?

Miz Kitty: False eyelashes.

Lisa, what about the acts in the show?

Lisa: You never know what you're going to see next, is it going to be a belly dancer, a juggler, is somebody going to fall down? Is it going to be an accordion, a banjo? Who knows what's next, jazz? And then there are the door prizes. Last time I gave away a dust mop that looked like a merkin, a horse painting framed in an actual wooden toilet seat that looked like a horseshoe, fabulous costumes, marital-aid manuals from the '50s and '60s -- all from my world travels.

Miz Kitty: She gave away my dust mop merkin. I wanted it. It was part of my accouterments.

Tom D'Antoni
Friday, November 17, 2006
OregonLive.com - Entertainment
Back to Top
---
Willamette Week Online - November 2006
"Have a history lesson at Miz Kitty's Parlour. The show harks back to vaudeville's golden age—an enchanting time just after the Revolutionary War of 1812 when Jesus was still the King of Arabia. The Gold Rush was on, and President George Jefferson was movin' on up to the White House. There's ragtag ragtime, sideshow charm and a variety show. See sketch comedy from Renob Control, listen to the Whiskey Flats Brass Band and marvel at Jasmine, Portland's own artistic Hula-Hoop manipulator extraordinaire. So travel back to a happier time, before hippies and Ryan Seacrest, when prostitutes could dance and dinosaurs still terrorized Australia. It's magical."
Back to Top
---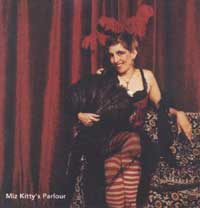 photo by Susan Seubert
Everyday with Rachel Ray - September 2006
In the magazine section titled: 12 Reasons to Love Portland, Jancee Dunn says: "Vaudeville is still in style.

If you time your trip right, you'll be able to catch the city's wildest act: the monthly variety show Miz Kitty's Parlour at MISSISSIPPI PIZZA PUB. Scantily clad funny girl Lisa Marsicek, a.k.a. Miz Kitty, announces a rollicking lineup of burlesque acts, tap-dancing duos and belly-dancing troupes."
Back to Top
---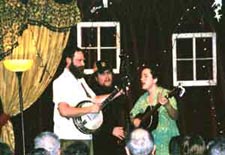 It aint Lawrence Welk...or is it? Miz Kitty brings the variety show back to life at the Mississippi Pizza Pub.
Whiskey Puppy's
Justin Auld (banjo), Rachel Gold (guitar) and Travis Harrison (bass) a pluckin and a strummin on stage.
photo by Eva Hershaw
St Johns Sentinel - March 2006
Eva Hershaw says: "Vaudeville revival - Mississippi teams with old-fashioned entertainment.

It aint Lawrence Welk...or is it? Miz Kitty brings the variety show back to life at the Mississippi Pizza Pub. Their talent, however, lives on. Portland ushers in a new generation of vaudeville talent as the older generation passes into history.

Handing out shameful door prizes, a sausage cookbook among the best, and pulling volunteers onto the stage, Miz Kitty engages the viewers seated an arm's length from her microphone. As a host, she has a certain gravitas about her, one of hard whiskey and soft smiles."
[more - see page 9]
Back to Top
---
Portland Tribune - January 20, 2006
Eric Bartells says: "Lisa Marsicek has been on the spear tip of Portland's old-timey music revival for several years. She's one of the clog-stomping Flat Mountain Girls but also the saucy vamp who hosts the popular monthly revue "Miz Kitty's Parlour."

A rollicking, vaudeville-style grab bag of entertainment, the show is in its second year of shoveling people into the Mississippi Pizza Pub like extra pepperoni onto an 18-inch Heart Stopper.

"It's always packed," says James Cook of the local band Trash Can Joe, which has performed at several revues. "Lisa just has a talent for bringing together really good acts." [more ...]
Back to Top
---
Oregon Art Beat - October 13, 2005
"Miz Kitty, who is the vamp behind the popular monthly vaudeville revival show, is really Lisa Marsicek. Meet Lisa and her alter-ego and find out why Miz Kitty's Parlour has been playing to sold-out audience." [See web mention]
Back to Top
---
The Oregonian - A&E - January 14, 2005
The fabulous Miz Kitty (Lisa Marsicek) brings an all-star edition of her funky cabaret to Mississippi Pizza Pub, with a mix that ranges from chanteuses to puppets to ukuleles to poets to accordions to operatic spoofs and a master mixologist. [Full picture]
Back to Top
---
The Oregonian - A&E - April 23, 2004
Lee Williams says: "Once a month, Miz Kitty opens her parlour doors and invites the public in to catch her discoveries, local talent she presents vaudeville-style: live, one microphone and no five-second delay. The show, a consistent sellout, is a flashback to simpler days and unplugged nights, with plenty of banjo picking, tap dancing, you name it". [more ... ]
Back to Top