Home
Next Show
Venue
Reviews
Podcasts
Archives
Links
Miz Kitty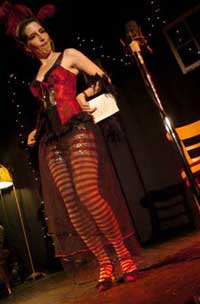 photo by Olivia Nisbet
The Oregonian
Home >> Archives >> Past Shows
Shows of the 2005-2006 Season


= Audio podcast available |

= Video podcast available

August 12, 2006
Special Vaudeville style revue for the whole family at the Bite of Oregon.

SKYLARK TAPPERS
Thundering tap dance troupe

MIDNIGHT SERENADERS
Grand Ole' Opry meets Tin Pan Alley

MANDALA
Neo-tribal belly dance troupe
May 20, 2006
NANN ALLEMAN & DAVID LIPKIND
Some of that Fancy Harmonica Playing & Stylish Singing
from the Spigot-Lishus Duo!
NED THE GEO-WIZ
The Man with the Razor Sharp Mind will astound and Thrill!!
RUBY RUTH & YASCHA
Soulful Singing & Piano!
PROFESSOR CARBUNKLE
Withering Wit, Words and Whatnot
April 15, 2006
GALLUS BROTHERS
Balancing Acts, Juggling & Old Time Music!
PORTLANDIAN THEATRICAL SOCIETY
The Proffessor is Back with his Helpful & Comedic Sidekicks!
JOSH COLE & CURTIS ALSOBROOK
Banjo-riffic Quick Pickin'!
MATTHAN MINSTER
Dreamy Heart-throb Singer/Songwriter!
MARK NUISMER
Quick Fingers Playing the Ragtime Piano!
March 18, 2006
SCHICKY GNAROWITZ
Portland's Favourite Klezmeresque Trio!
CALEB KLAUDER -
Stumptown's Favourite Picking & Singing Son!
JANE KEEFER
The Original Banjo Pickin' Gal!

THE BIG EASY
Playing the Raggity-Ragtime!
TERPSICHORE'S DAUGHTERS
Amazing Balancing & Trapeze Acts!
MANDALA -
A five woman belly dance troupe!
February 18, 2006 -
JAMIE STILLWAY
Blues Fingerpicking Crackerjack!
RACHEL -
The Exotic and Mysterious Belly Dancer!
THE NEW IBERIANS
Foot Stompin' Zydeco & Cajun Music!

PORTLANDIAN THEATRICAL SOCIETY
Mavis, Marge, Mable & the Professor return to give
you the "What Fer" abot Love!
GREG CLARKE & DOUG SAMMONS
It's Your Time for Old Time done up all Fancy with Love!
CARAVAN GOUGH
Swinging Gypsy Jazz! Try and Sit Still, I dare Ya!
January 21, 2006
TIMOTHY SCOTT
Cello madness & Hi-Jinx
VANILLATOWN VAUDEVILLIANS
The Northwest's favourite Juggling Maniacs are Back!
STEVE CHESEBOROUGH
Master of the 1920's & 30's Acoustic Country Blues
SISTER CARAVAN
Hip Shaking Hypnotizin' Belly dancers!
WHISKEY PUPPY
Old-Timey Tunes and Clowning!
PAUL SILVERIA, BIG OWEN & LITTLE OWEN
Two Men and a Puppet,,,oh the pun you will have!
December 17, 2005
MARY FLOWER
Reigning Queen of Singing and Picking the Blues!
CAPTAIN BOGG AND SALTY
Portland's Favourite Pirates are Back in the Parlour!
GOVERNMENT ISSUE ORCHESTRA
Stumptown's Old-Time Sweethearts Sing and Twang into
your heart!
BELISS
Serious Sister Singing Sensation!
MYSTERIOUS HOLIDAY PLAY
Twas the night before Christmas and OH what a MESS!
MUCKISH
Fast and Furious Traditional Irish Music.
November 19, 2005
ANNE WEISS
Portland Powerhouse Blues Singer and Picker will knock your socks off!

LOREN HOSKINS -
Fine Comedy from one of Stumptowns Most Wonderfully Warped Minds!
JOSH COLE BAND
Great Bluegrass from Folks Who Know How to Play it Right!
VON HUMMER
You Seen Him on Cable TV...NOW, See the Lobster Madness LIVE!!
ROSWELL SISTERS -
Scintilating 3 Part Harmonies by Portland's New Sweethearts...
and Sweeet They Are!
MIKE DANNER
Fine Fine Accordion by Rose City's Go-To guy for the squeezebox!
October 15, 2005
RED ROSE GIRLS -
Amazing 3 part harmonies take you back to the 30's!
WOW WEE ZOW WEE
Tripper Dungan's amazing shadow puppets from the edge!
UNCLE YASCHA
Oy Ve!! Yiddish Accordion Madness!
MICHAEL 'BAGPIPER' JOHNSTON
Hooray!! Bagpipes!
TORSTI
Ragtime piano from the 1880's to the 1980's!
SURPRIZE SWING THANG
Trumpet, Uke, Bass, singin'! The Mystery band will
get your toes tappin!

View and listen to all audio and video podcasts

Back to Top